The home of exceptional Online Business Managers
Helping you build a wildly profitable OBM business
Are you an Online Business Manager, Project/Operations manager or VA? Want to be paid well, work with the BEST clients and have more freedom? You're in the right place.
OBM Academy gives you the skills, tools and confidence to create a business that serves you, instead of you serving it.
Don't just take our word for it

Overworked, underpaid and exhausted?
A new way to grow your business that values YOU.  
As an OBM, you've dedicated yourself to your clients, often placing their dreams and goals ahead of your own. Long days and late nights have become your norm, as you're invested and want results. The quest for new clients, and keeping them happy, is like an uphill battle. It seems impossible to earn what YOU want, to build your own empire and work when works for you.
But picture this—what if there's a path to success that doesn't demand your round-the-clock commitment? Imagine having the freedom to choose. Whether it's work or play. Enjoying your weekends again while confidently growing your client base, and feeling appreciated for your hard work.
Sounds too good to be true? Well, it's not only possible, but it's also right at your fingertips. Introducing OBM Academy – designed specifically to help you build the OBM business you signed up for; one that serves you instead of you serving it. 
We're here to hand you the keys to a thriving, 6-figure OBM business.
What if we told you it is possible to create a six-figure OBM business that gives you the freedom you desire without working longer and harder?
Tired of feeling undervalued by your clients? 
You did all the right things and your client is still unhappy
Yes! You won the amazing client. You throw yourself a victory party and get to work. You give it your all, going above and beyond to deliver exceptional results. In fact, you overdelivered, worked longer hours, researched custom solutions, and even reduced your price. But despite your best efforts, you receive a disappointing and frankly, ungrateful response. Now, you're frustrated, holding back tears and questioning your own abilities.
But here's the thing: not everyone is the right fit for you, and that's okay. The good news is, the amazing clients you dream of do exist. At OBM Academy, we'll show you how to communicate your value, attract the best clients who appreciate and value your expertise and build long-lasting, rewarding relationships. 
Say goodbye to feeling unappreciated and hello to raving reviews.
Start your journey with OBM Academy to uncover your unique value, perfect your pricing, and getting ready for stress-free scaling.
We're here to fast-track your OBM journey, taking you from being overworked and underpaid to appreciated and wildly profitable. We're all about helping you craft an audacious, thriving business that truly reflects your expertise, attracting the best clients who value and inspire you. This is no ordinary path; it's an adventure, a leap into the extraordinary.
Are you ready to up your OBM game with OBM Academy?
Leverage your unique value, optimise your pricing, and get ready to grow. Leave behind being underpaid and move forward making more money. Our short, sharp guidance helps you up your OBM game, crafting your pricing and boosting your income. It's time to own a business that's as hard-working as you are.
Ditch those endless 14-hour workdays and take hold of badass ownership. Our easy-to-consume, action-based know-how equips you to become the master of your business. Taming it to serve you and your ambitions and not the other way around.
Let's go from being overlooked and undervalued to being sought-after and standing out. We'll hold your hand, helping you craft relationships with exceptional clients. Clients who inspire, value and enable you to deliver your best. This isn't just work; it's a fun-filled adventure that makes everyday exciting.
Thrive on the OBMcoaster, overcoming barriers and boosting your reputation with our powerhouse coaching and mentoring in your corner. Escape the never-ending cycle of feeling behind and start achieving the incredible results you know you're capable of.
The 9 key elements to OBM success
Ramp up your OBM goodness with our
nine done-with-you online modules
Join OBM Academy and dive into our 10-week, expert-led online course that will fast-track your OBM business to 6-figure success and beyond.
Build the foundation for excellence
The purpose of this stage is to build the foundation for a business that's profitable, fun and feels easy. For OBMs, this means having the confidence you're hitting the mark and delivering what's expected of you, a crystal clear understanding of how to keep your clients happy and the know-how to leverage strategy thinking to position yourself as a premium service.
The Start stage gives you confidence and clarity of what a successful OBM is and does, the tools to give clients both what they want and need and to steps to increase your brand reputation using your experience and strategic expertise.
OBM 101
Welcome to the first step in transforming your OBM journey.
Confidently own the OBM Role: Kick-off with a deep understanding of what it truly means to be an Online Business Manager. Explore the transition from 'doing' to 'thinking', and leverage your unique strategic value. Learn how to go from being task-focused to a proactive strategist. This fundamental change will allow you to ditch the long hours and position you as a knowledgeable partner, as you work with and guide your clients to success.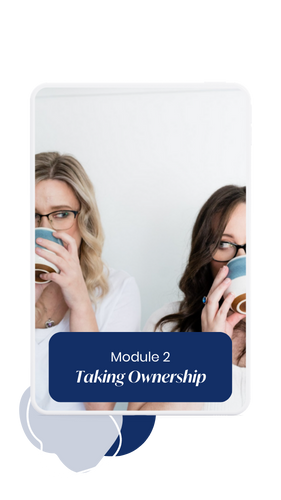 Taking Ownership
Explore how to keep clients happy by taking ownership in module 2.
Learn how to give clients what they [REALLY] need to keep coming back for more so you can enjoy repeat clients and an organic referral network. Show your investment in your clients' success by taking true ownership of your role, building relationships based on trust and embracing radical responsibility. 
Leveraging Strategic Expertise
Dive into Module 3 and learn how to increase your income with strategic expertise.
Become an invaluable asset by mastering how to craft, customise, and implement strategic plans. Sharing strategic perspective increases your authority and positions you as a premium service. This module is a deep dive into thinking like a strategist, equipping you with the confidence and tools to execute high-level strategies. Get your clients the results they crave and a reputation that precedes you.
Attract (and keep) ah-mazing clients

What if you had a service offering you LOVE, the blueprint of the exact people to offer it to and the precise steps to deliver it so they'll happily pay you a premium?
This stage is designed for you to walkaway with exactly that. We'll walk you through how to work out your unique value and turn it into a profitable offer, you'll learn who the clients are that will value and appreciate you (and how to find them) and what to do to make your clients experience with you amazing, resulting in raving reviews.
The Sell stage helps you put an end to price wars and create a stand-out offer no one can compete with.

Uncovering Your Unique Value
Set the foundation for offering services that are fun and easy in Module 4.
This module helps you identify your unique strengths and skills, forming the foundation of a premium service offering that feels great. Learn to leverage your 'golden goose' – a blend of personal traits and practical skills. By understanding and leveraging your strengths, you'll break free from the commodity race and you'll stand out in the market. This is your chance to identify your unique value, creating a premium service that showcases your unique abilities and talent.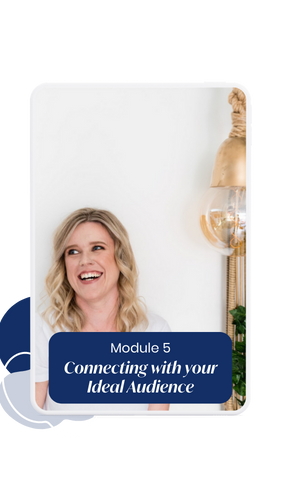 Connecting with Your Ideal Audience
Attract ah-mazing clients with Module 5.
Learn how to identify and reel in clients that are the perfect match for your unique skillset, honing in on those who will benefit most from working with you. Make selling easy, With a clear vision of your ideal client, you'll be able to avoid tyre-kickers and PITAs, put an end to price wars and work with the best clients. After this module, you'll be equipped to sell with ease, organically attracting the people who value and appreciate all you offer.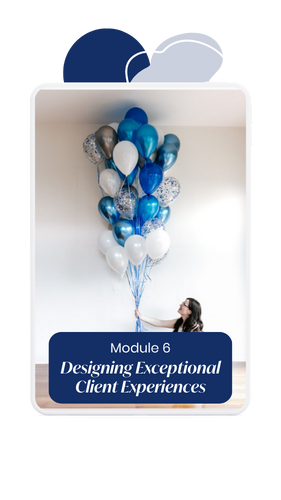 Designing Exceptional Client Experiences
Jump into Module 6 where you'll learn how to transform ordinary transactions into extraordinary experiences.
You'll learn how to make your clients feel valued, understood and like they never want you to leave!
We'll cover how to plan and design client journeys that remove unnecessary manual work, while ensuring your clients feel acknowledged and delighted at key points of their engagement.
By the end of this module, you'll know how to elevate your current client journey to be one that's human-focused and unforgettable.
Skyrocket your OBM Income
This stage is designed to help you put an end to feeling trapped by your business, working countless hours and not being rewarded for your effort. We start with implementing purposeful pricing strategies, building in healthy profits and providing you the escape from being overworked and underpaid. Then, learn how to build scalable, adaptable systems that allow your business to grow without needing more of your time. Lastly, learn how to expand your toolkit with a unique blend of practical, technical, and interpersonal skills that not only enhance the quality of your service but also reflect your premium pricing. By the end of the Scale stage, you'll be on your way to a owning a business that serves you, paying you well and giving you the flexibility and freedom you crave.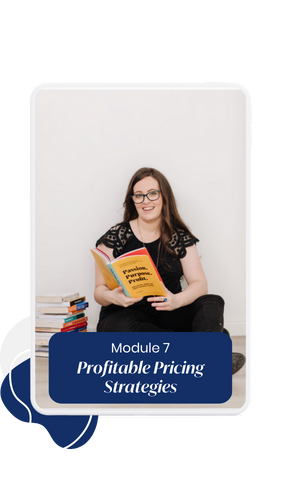 Profitable Pricing Strategies
Amp up your profit by pricing with purpose in Module 7.
Learn to build a wildly profitable business that gives you back your freedom and choice. This module will show you how to stop undercharging, reducing your stress and need to work all-the-time, and instead to adopt pricing strategies that leverage your strengths and value your time. At the end of this module, you'll be able to price your services clearly, confidently, and ditch trading time for money once and for all.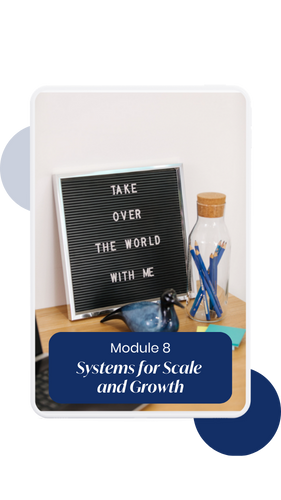 Systems for Scale & Growth
Dive into the world of scalable, adaptable systems in Module 8.
Getting setup to scale starts now. This module is designed to help you avoid the friction most people face when you're ready to expand. Learn how to design and implement systems that grow with your business, making for a seamless journey as you scale. By the end of this module, you'll have the tools to support your business as it grows without needing more of your time. Creating adaptable processes and streamlining your business operations as you go.
Building Your Toolkit
Thrive as an OBM with a well-rounded toolkit including a mix of practical, technical, and interpersonal skills in Module 9.
As an OBM, your learning is never finished. In this module, we'll help you develop the crucial skills to deliver a premium OBM service confidently. You'll evaluate what's currently in your toolkit and what gaps exist. Learning how to add to it the right way so you get the most out of your training time and gain the added bonus of boosting your reputation and justifying a higher price point. 
What our OBM Academy students have to say
OBM Academy is hands down the best investment I have ever made for my business. I've done a lot of courses and masterclasses in my time (even spent $20,000 on a business coach) but the value I've received from this course far exceeds anything else.
I wasn't "just a student" or another number. You got to know me, my struggles, my insecurities and help me through it. You gave me exactly what I needed from the first module, solving the biggest problem I was struggling with.
I'd been wanting to make the lead from VA to OBM for some time but always felt stuck in how I could do that. Once I'd completed the challenge and saw for myself how much I got out of that and how well I connected with Leanne's teaching and content, joining OBMA was a no brainer. The content is well put together and while giving you guidance, it also allows and encourages you to really find your own magic skillset unlike some other options where it's more of a 'this is what you should do' format.
Thank you a million times beautiful women for creating life changing content in a beautifully articulated and presented way, with detailed examples to follow. It's very refreshing to feel so supported and equipped to complete the tasks that will immediately impact my business. I light up every time I open new content! Picking a favourite module was like picking a favourite fur child 🙂 haha! impossible. I loved it all.
I was a bit lost as to how I could grow and evolve my business. I was swapping time for money or constantly in a circle of finding new project work and I was tired. Tired of the constant hustle. Iw anted something more but I didn't know what that looked like. I just knew OBM Academy was the best solution to uplevel both myself and my business. I would highly recommend both Leanne and her team and the OBM Academy if you are wanting to step into the OBM world.
I most certainly would recommend this course to others within the virtual assistant industry. Thank you so much Leanne and team for all the work you have put in to pull this program together. I really loved that there was a program here in Australia. I have gained so much knowledge from participating in this course that I can put into practice.
How do I know
you're not just talk?
Transform the industry, one OBM at a time, starting with me.
Let's walk down memory lane.
It all started when I was a young girl…
Raised in my dad's greasy-kneed mechanic workshop, I developed a knack for running a business early on. When I broke into the VA world and started building my empire, I realised this was a different ballgame.
Despite being a newbie, I scaled heights most take 8 years to reach. To me, it was business as usual. However, it turned out I was operating at a whole new standard. But with that came challenges.
I constantly had to explain my unique approach, convince prospects of my reliability, and debunk the industry myth that I was merely a $5 per hour assistant. Tired of this narrative, I transformed from VA to OBM, revamping my services, pricing, and communication strategy.
How do I know
OBM Academy is for me?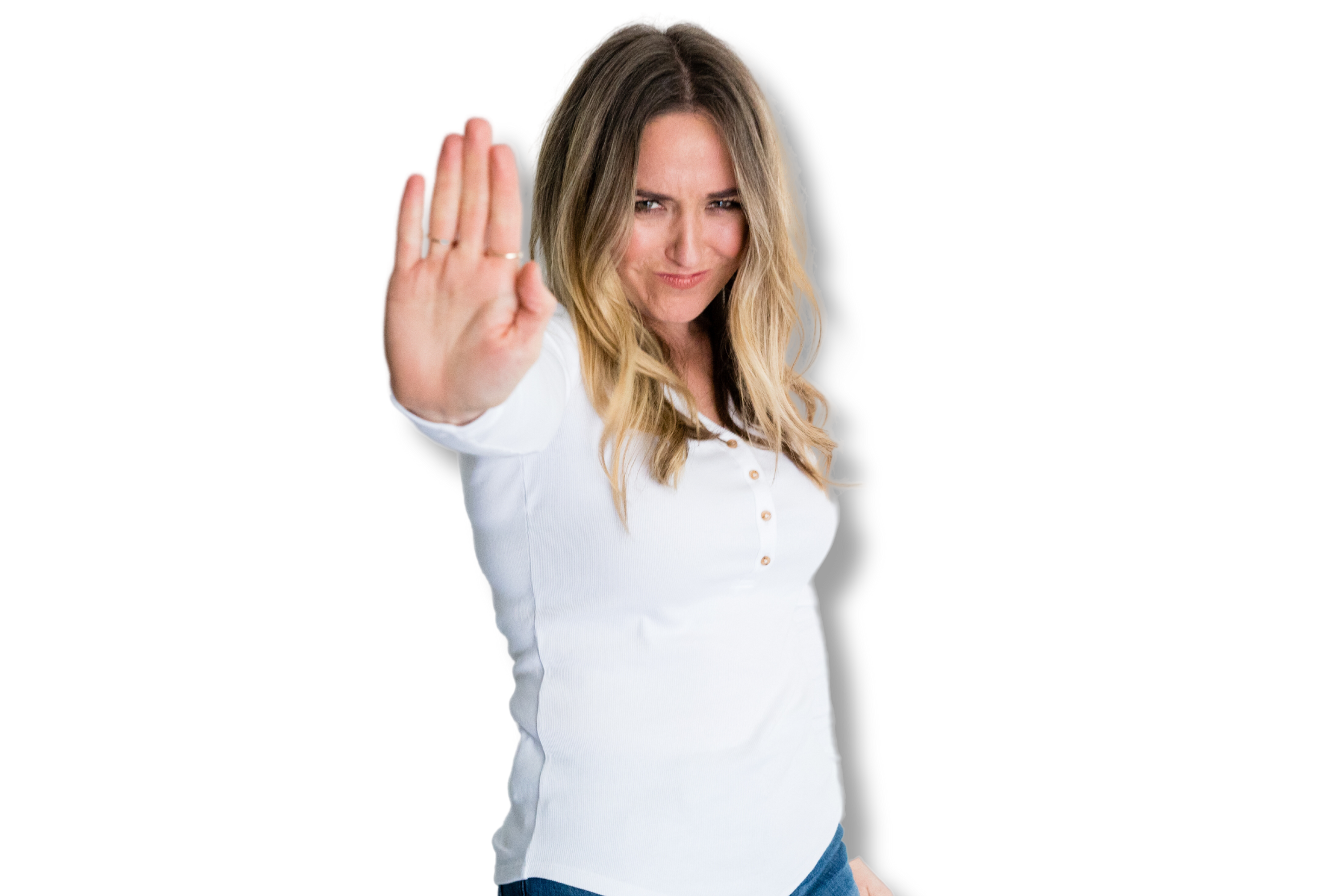 OBM ACADEMY IS NOT FOR YOU IF:
You believe doing the same thing you've always done will get you different results

You're looking for a quick-fix, zero-action solution

You'd rather go it alone than be supported by a community

You're not prepared to invest in yourself to grow your business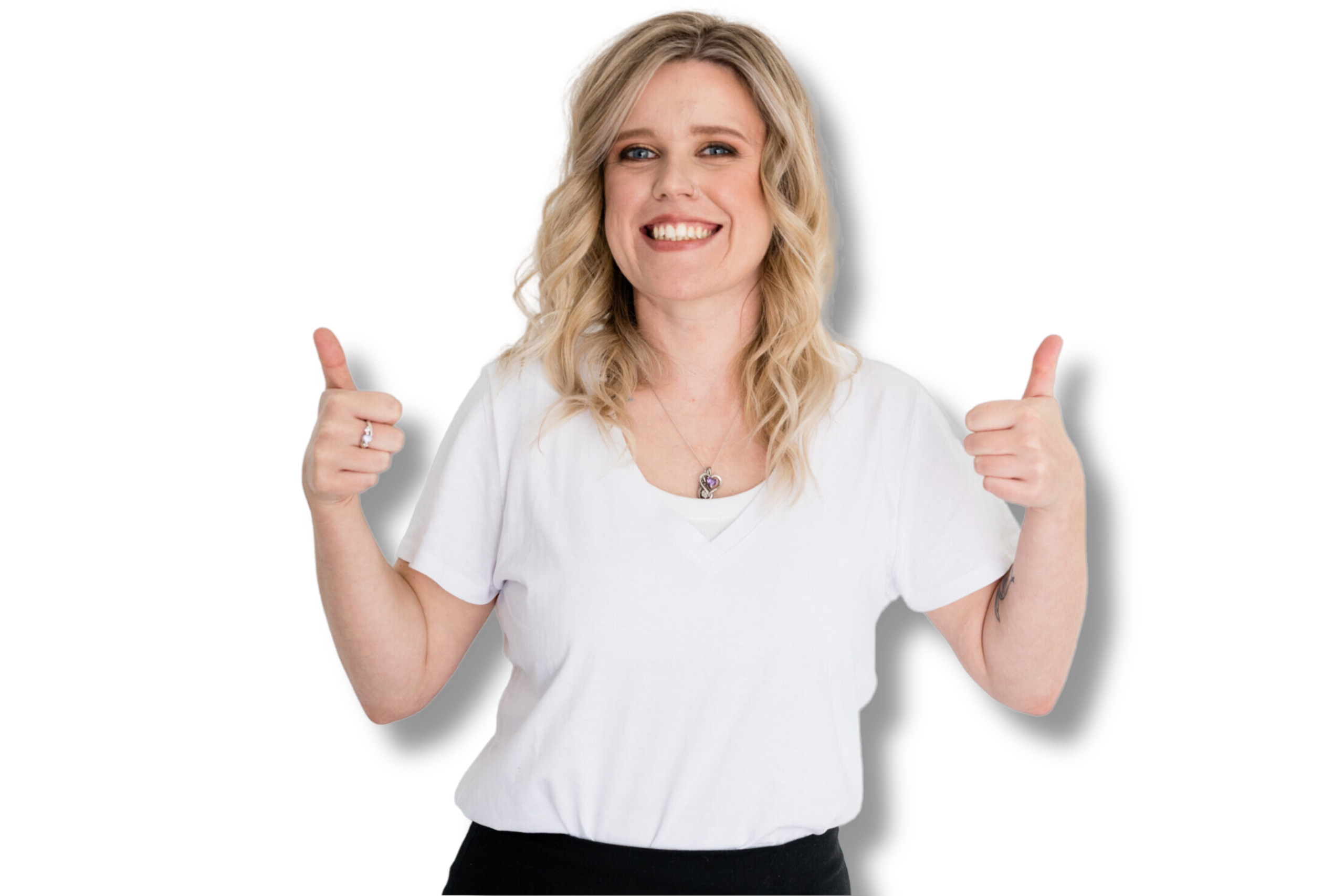 OBM ACADEMY IS FOR YOU IF:
You love supporting your clients but wish it was


more profitable

Want to 

stand-out in the OBM industry

 with clients lining up to work with you
Are committed to 

offering a high-quality service

Working 14 hour days and 

missing your kid's bedtime is getting stale

Want to learn how to 

ditch trading time for money

Ready to get your hands and elbows dirty to 

get the badass results you know you can
This is what our OBM clients have to say
It would have been a totally different outcome if it wasn't for Audacious Empires. We wouldn't have gotten the success we got when we first launched our program.
Leanne and Audacious Empires have literally changed my business and they've changed my relationship with my business. As a result, I've fallen back in love with my business and my work and what I'm trying to create and contribute to the world.  I no longer feel like I'm alone in business and it's the most wonderful feeling.
It was like finding the perfect avocado. Even as a copywriter I'm lost for words when it comes to describing how great she (Leanne) is.
What will I get
with OBM Academy?
Experts
Access to 50 years of Business Management Expertise
Coaching Calls
9 x Group Coaching & Connection Calls and Recordings
Module Workbooks
Learning made easy with 9 x Step-by-Step Workbooks
Mind-blowing Modules
Full Access to 9 x Modules made up of videos and activities
Templates & Cheatsheets
Ample Business-boosting Templates, Cheatsheets and Guides
Get your Questions Answered
Ability to ask and get answers to your individual questions every week
Private Community
Access to a Private Community to connect, share and get support from OBMs with you
Personalised Feedback
9 x Needle-moving Assignments assessed by Trainers with Personalised Feedback
Accountability
Haven't shown up? Not submitting your assignments? You'll hear from us.
Custom OBM Profile
Get a personalised OBM Profile through our signature OBM Profiling Tool
What's all that worth to me?
We hear you asking...
The complete package is worth $30,000
Access to 50 years of OBM, business development and marketing expertise, worth: $10,300
Personalised OBM Profile through our signature OBM Profiling Tool, worth: $1,000
9 x Action-focused modules incl. videos and activities, worth: $9,000
10 x Weeks' access to the private community where you can connect, share and get support from OBMs doing this with you, worth: $500
10 Weeks' of Answers to your individual questions, OBM and business related. Worth: $1,000
12 months' access to a library of business-boosting templates, cheatsheets and guides, worth: $600
9 x Carefully crafted workbooks so you can get the results you need, in an easy step-by-step process, worth: $1,800
9 x 1 hour group coaching & connection calls, worth: $2,000
9 x Needle-moving assignments – assessed by your coaches with personalised feedback, worth: $1,800
Accountability – haven't shown up to the calls? Not submitting your assignments? Getting in your own way? You'll hear from us. Priceless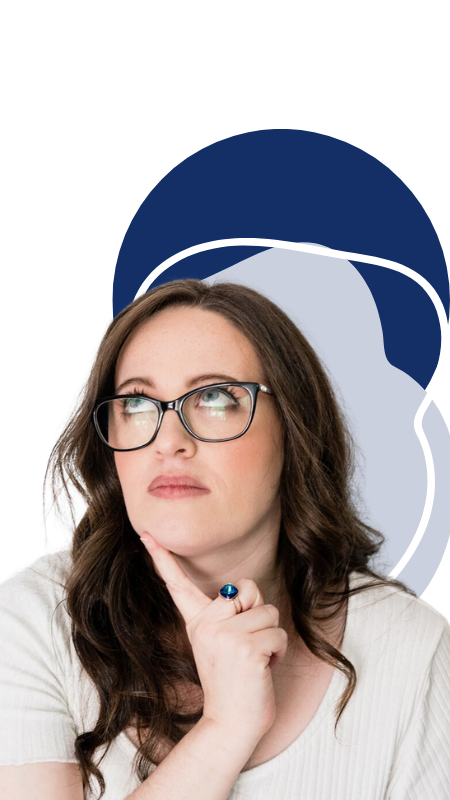 Premium Support
Benefit from dedicated assistance from our experts, who are practicing OBMs themselves.
Tailored & Flexible Learning
Our course blends video lessons, written materials, and live coaching, accommodating various learning styles and letting you progress at your pace.
9 Actioned-Focused Modules
Explore a robust, action-driven OBM program. Leverage insights from badass OBMs and jumpstart your OBM biz towards the 6-figure income you deserve!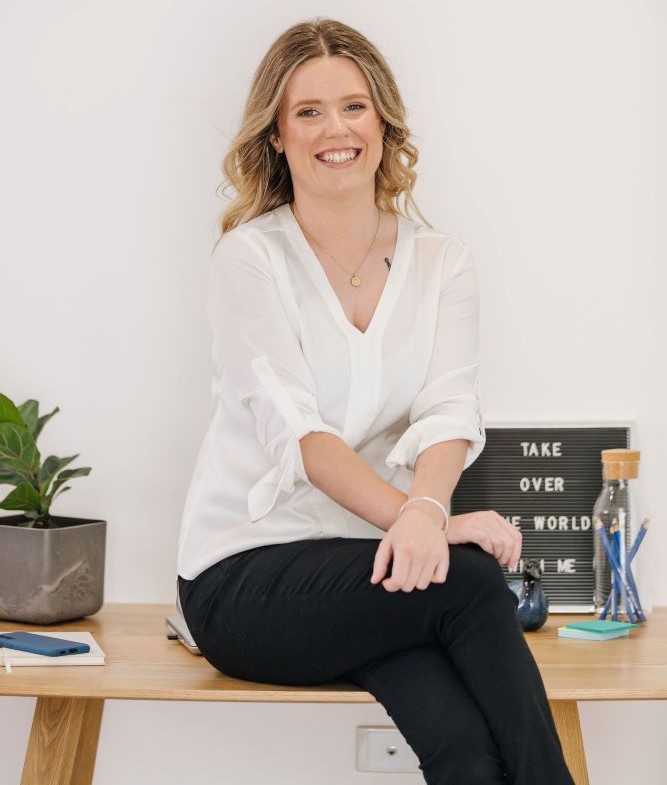 But you won't pay $27,700!
(You won't even pay half that)
Yes, OBM Academy is worth at least $30,000.
And yes, we know we could easily charge this as securing just one new client would more than cover the investment in the program… can you say "no-brainer"?!
Even better, we will add juicy early bird bonuses so when you sign up today, you'll only pay $3,300.
 Fast track your OBM business
Pay only $3,300 ($30,000)
MONEY BACK
No regrets, guaranteed.
Learn the content, implement the actions, and aren't satisfied we will issue you a full refund, up until 14 days post program commencement date. 
OUR PROMISE
In your corner, all the way.
Count on unwaivering support and access to essential tools for transforming your
OBM business.
YOU'RE SAFE HERE
OBM Experts, at your service.
We are OBMs ourselves. We understand your unique challenges and are here to help you thrive every step of
the way.
TRIED AND TESTED
Like you, now thriving OBMs.
Learn the 9 transformative steps, which we used to become successful OBMs. We've been where you are, so we know these steps work.
Get the skills, tools and confidence to
Build a wildly-profitable business that serves you with OBM Academy
Do you have more questions?
When does the program start?
The first week kicks off on Monday 19th February 2024
What if I get stuck?
We'll help unstick you. This program has been built from the ground up with one thing in mind – impact. Small steps for big results. When you get stuck, you've got access to weekly coaching calls, the private support group to ask the questions you need answered so you can keep going.
How is the training delivered?
We understand everyone learns slightly differently. The training is packaged into a mix of live video, recorded video training via our course portal, written explanations and visual diagrams. There are nine modules which are released one week at a time.
How much time do I need to commit?
Like any program, you get out what you put in. The minimum we'd recommend is 3 hours per week (about 30 minutes a day), to watch the training and complete the needle moving tasks.
How long do I have access to the course materials?
You have 12-months access from the program start date. This means you'll have access to the all program materials and the coaching call recordings.
How are the coaching calls held and when are they?
The live coaching calls with be held via Zoom and be interactive.
The calls will be held weekly usually on Thursday mornings at 10am AEST/AEDT, however this is subject to change.
Are there assessments?
Yes! At the end of each module there is a small assignment, you'll be asked to complete a task or activity that directly relates to your current OBM business. Once reviewed, you'll be able to use what you've created within your business everyday. In other words, you're creating business assets you can use on repeat.
What is the refund policy?
We don't want you to feel like you can't change your mind.
On this side of the screen, we're confident we'll deliver exactly what we've said we will. However, we understand you might feel a little unsure.
That's why if you learn the content, implement the actions, and aren't satisfied we will issue you a full refund, up until 14 days post program commencement date. Past this point or without proof of content completion, no refunds will be issued.
I'm not an Online Business Manager, will this still work for me?
Unless you're something awfully OBM-like (Operations VA, Project Management VA, Digital Assistant etc), probably not.
Are the results guaranteed?
No. Although we'd love to be able to say everyone gets the same incredible results, this is not something we can guarantee. Each person's results will differ based on both internal and external factors such as the level of commitment made, the amount of action taken, understanding of online business operations, the current economy and financial climate and the like.
Do I need prior knowledge to enrol?
No formal education is required, however this program is most beneficial for those currently running an OBM or similar business.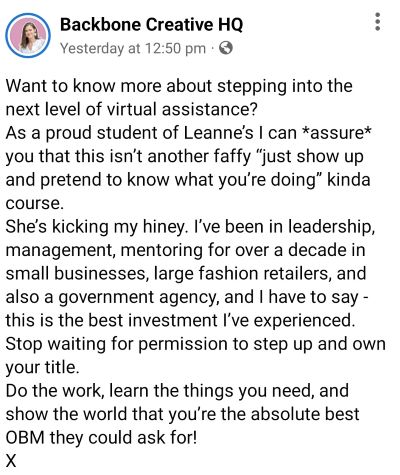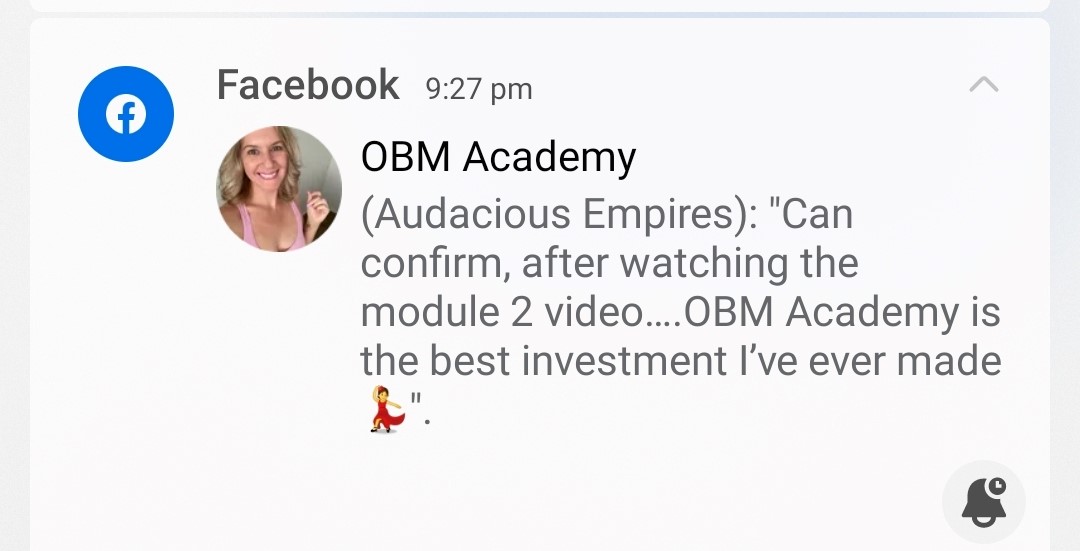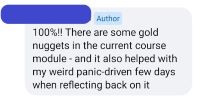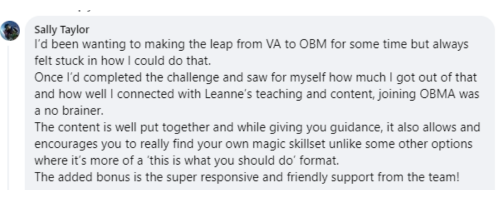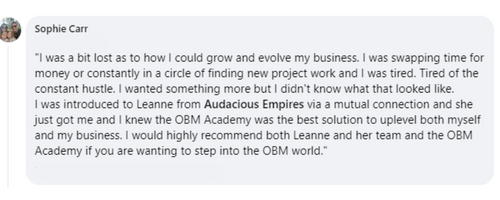 This is what our OBM clients have to say
I feel so, so excited for the future and for the business that I'm building now because I'm getting rest and I'm starting to relax because I don't have to be the only brain inside everything. The Audacious Empires team is in my business, and they're helping me meet all of my goals, and I get to chill and enjoy the ride. I couldn't recommend them more. You'll be in great hands.
Leanne, just wanted to say a HUGE thank you so much for being an incredible human being and the countless hours and all the work you've done for Wordfetti. The Wordfetti Your Words course wouldn't have happened without you (no, seriously!). Your support truly means the world to me, and I am so grateful for you! Thank you for being you.
Leanne is incredible. If you're looking for someone that can literally figure anything out, particularly across the automation and tech side, which is really important, she works really hard to understand your business and come up with the best solution for you and what you need for your clients or your students. So I highly, highly recommend working with Leanne.
MONEY BACK GUARANTEE
On this side of the screen, we're confident we'll deliver exactly what we've said we will. However, we understand you might feel a little unsure.
That's why if you learn the content, implement the actions, and aren't satisfied we will issue you a full refund, up until 14 days post program commencement date. Past this point or without proof of content completion, no refunds will be issued.
WE PROMISE
We're not in this just for the laughs, we promise we'll be in your corner the entire time.
We promise you'll be supported and have access to all the tools you need to transform your OBM business.